Winter Storm Safety: What You Need to Know to Stay Safe and Warm
Winter storms arise when the temperature is at or below 32 degrees, and strong, gusting winds are present to draw moisture from bodies of water to create clouds. As the moisture returns to the ground, the cold temperature it encounters on the way down forms freezing rain, sleet, and snow.
Ice storms are more likely when temperatures are closer to freezing, and a blizzard is more likely when the temperatures are well below freezing. Both types of precipitation create dangerous conditions that require you to be more vigilant than usual and engage in safety practices for all situations.
Whether with ice or heavy snow, winter storms cause low visibility, slick roads, and blinding glare from reflected light. The ambient temperature of asphalt and concrete roadways reflects that of the air and allows ice and snow to build up. Ice freezes on the roadway, sometimes resulting in black ice that's almost invisible to the eye and can cause you to spin out unexpectedly.
Snow builds up on the roads and makes it difficult for you to see where the lanes and shoulders are located. It also packs down, creating ice buried under the snow, and ruts are formed as cars pass over the drifts. Last but not least, blowing snow and ice lowers visibility conditions for everyone, which makes travel and outdoor activities dangerous.
The time to prepare for a winter storm is long before the weather arrives and when the supplies are available online or in the stores. There is no such thing as being over-prepared for a blizzard or ice storm, as you never know how long the storm will last. A heavy storm can cause utilities to go down, and there's no predicting how long it will take for them to come back on.
With some preparation, you can be prepared for winter storms.
Safety Kit A safety or survival kit contains essential items you need to get through a heavy storm and the aftermath that may involve a power outage and extreme cold. You can prepare some items when you hear an advance warning about a blizzard. You'll want to have other supplies on hand long before there's a storm to avoid trying to find them at the last minute. According to the American Red Cross, your safety kit should contain items that include: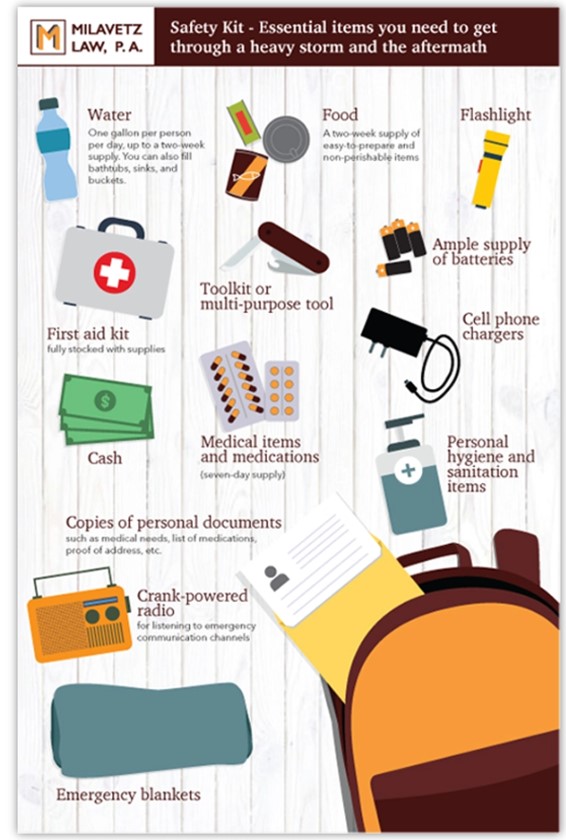 Water: One gallon per person per day, up to a two-week supply. You can also fill bathtubs, sinks, and buckets.
Food: A two-week supply of easy-to-prepare and non-perishable items
Flashlights

First aid kit fully stocked with supplies

Toolkit or multi-purpose tool
Ample supply of batteries
Emergency blankets
Cell phone chargers
Medical items and medications (seven-day supply)
Crank-powered radio for listening to emergency communication channels
Copies of personal documents such as medical needs, list of medications, proof of address, etc.
Cash
Personal hygiene and sanitation items
More on how to Winterize your home, Prepare Your Car and Small Business for Winter. Click Here for Full Guide