Short-Term Vacation Rentals in Summit County, CO
We hope you find this information helpful. If you would prefer to speak with one of our Summit County Area Specialists about this topic please don't hesitate to give us a call (970-468-6800)or send us an email with your questions, it is important to us you have all the facts you need to make the right decisions for your Summit County Vacation property. Please note there are rules/restrictions per each town AND unincorporated Summit county. Check this query map to find out your property's town. All short term vacation rental properties shall receive an STR license prior to advertising or operation.
Unincorporated Summit County
Please note that the following content is not a comprehensive list of all regulation changes but merely an overview. Please review the revised STR Ordinance 20-C in full for all changes. Summit County has created this page STR Regulations Update effective February 2023. Visit the county website for more information and updates click here.
| | | | |
| --- | --- | --- | --- |
| Lower Blue Basin | Upper Blue Basin | Snake River Basin | Ten Mile Basin |
| 550 | 590 | 130 | 20 |
Summit County's regulations for short-term vacation rentals (STRs) are applicable to properties within the unincorporated areas of Summit County.
Access Summit County's GIS Parcel Query to find out if a property is 'unincorporated', knowing this will help define your property's specific regulations.
What is a 'non-exempt' unit? A non-exempt short-term rental unit is a property that does not have the following: (a) a 24 Hour Front Desk; (b) a 24 Hour Telephone System and (c) 24 Hour On-Site Private Security
Complexes currently identified by the Town of Breckenridge as exempt include: Beaver Run, Bluesky, Crystal Peak, Grand Colorado, Grand Lodge on Peak 7, Grand Timber Lodge, Main Street Station, Marriot Vacations, Mountain Thunder Lodge, One Ski Hill Place, River Mountain Lodge, Valdoro and Water House.
Town of Dillon
All owners renting their property for a period of less than 30 days must apply for a short-term license and pay a fee of $250 by June 1st of each year.
All short-term rental licenses expire on May 31st each year. The calendar year fee is $250 regardless of when the license is obtained. No refund shall be made to any person who discontinues business during the taxable year.
A short-term rental property is required to provide permitted or designated parking spaces at a rate of one space per bedroom plus 1 additional space. If a short-term rental property does not meet the parking requirement, then the property owner will be subject to a STR parking fee of $300 for each space the property is deficient. The parking fee is an annual fee.
Questions and complaints please email

[email protected]

or call 970-368-2044.
Go to: Dillon Short-Term Rentals for more information.
Town of Frisco
On February 23, 2023, Frisco has reached its short-term rental license cap and is now implementing a waitlist for those wishing to apply for a short-term rental license. To be placed on the waitlist:

Complete and submit the form below. A non-refundable $25 waitlist application fee will be applied and is separate from the STR license application fee.
Each Short-Term Rental (STR) unit is required to have a short-term rental license and pay taxes.
Effective August 1, 2021- STR License application fee is $250 per year.
There is a maximum occupancy of 2 occupants per bedroom plus 4 additional occupants. There is an option for STR owners to request a waiver to increase occupancy.
Go to: Frisco Short-Term Rentals for more information and resources.
The STR Support Team is available to answer questions and assist with the STR application, tax remittance and renewal processes – Please email us.
Town of Breckenridge
Town of Silverthorne
A valid short-term rental license is required for each short-term rental property in the Town of Silverthorne.
Short-term rental licenses are non-transferable/non-refundable in event of a property sale. The license number must be displayed in all advertising for the property.
Town of Silverthorne short-term rental complaint line: 970-406-4499
Quick Reference STR Map Courtesy of Summit Mountain Rentals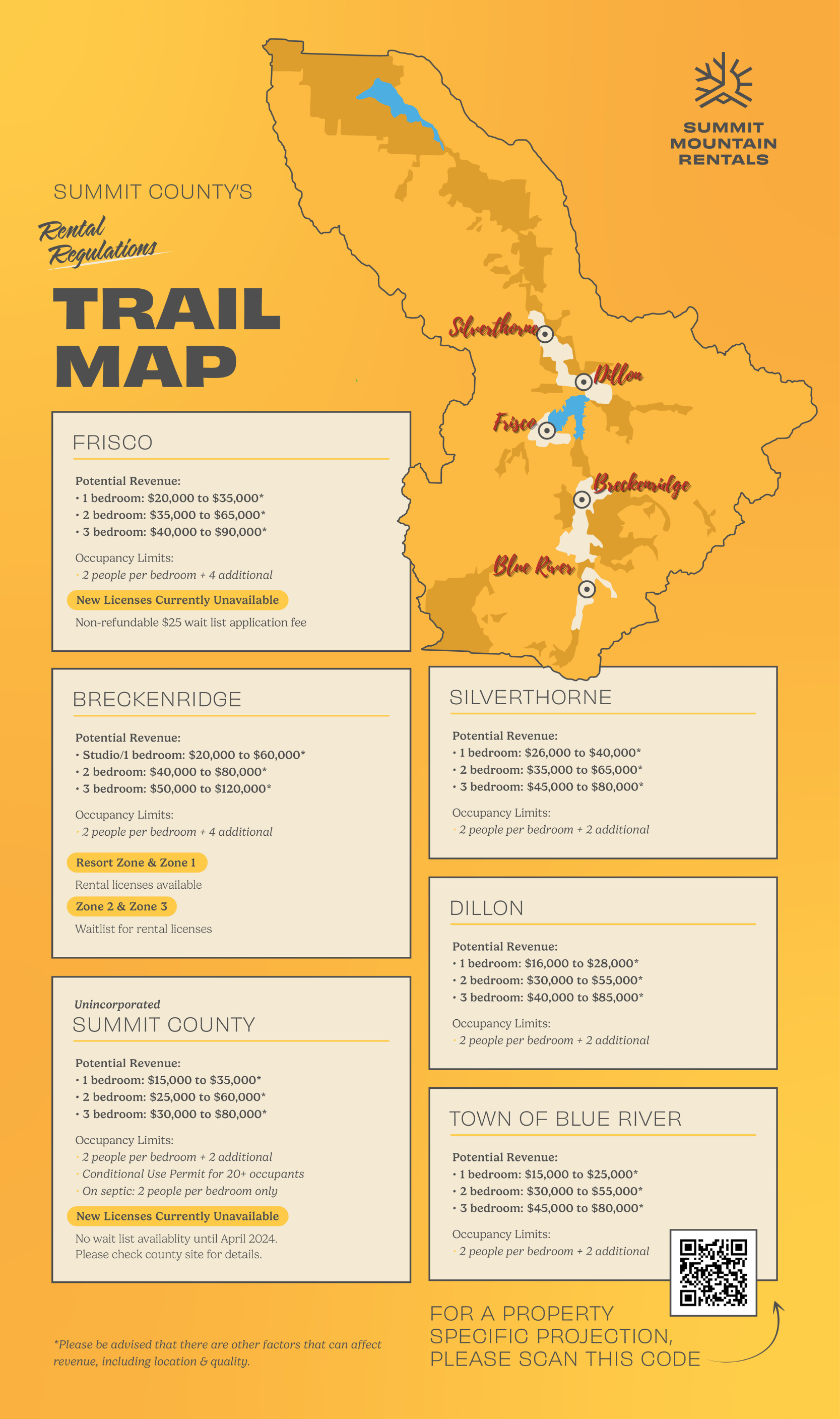 Important term definitions:
Short-Term Rental (STR): As defined by Summit County, a residential dwelling unit, or any room therein that is rented for periods of less than 30 consecutive days. At this time, there are no limitations on the number of STR units licensed within the unincorporated areas of Summit County.
Short-Term Rental Responsible Agents: The Responsible Agent is the main point of contact for your short-term rental unit. If an issue pertaining to your STR is reported, the Responsible Agent will be contacted, and he or she will have 60 minutes to respond with a plan for resolving the issue. The Responsible Agent is required to be available to respond to issues 24/7 and must have a text-enabled phone. An STR permit holder can serve as the Responsible Agent for the STR unit, but only if you can commit to being available to respond to issues 24/7.
Good Neighbor Guidelines: A code of ethics that visitors should follow to avoid negative impacts on the community. The document contains guidance on topics such as parking, wildfire prevention, respecting wildlife, waste disposal, noise, and outdoor lighting. Download Good Neighbor Guidelines
Short-Term Rental Vacation License: Standard application. Use if applying for five or fewer STR permits.
Master Bulk STR License Application: This is a bulk permitting option that is available for applications of six (6) or more STR licenses submitted by the same managing entity for units within a building or complex that utilize common parking, trash, utilities and contact information. All units included in a bulk permit application must have the same Responsible Agent assigned for all units. The Master Bulk License Application should be used for the first unit included in the bulk application. The Bulk STR License Application for Additional Units should then be used for all subsequent units included in the bulk application.
Short-Term Vacation Rental Conditional Use Permit (CUP): Applicable to any STR proposing a maximum occupancy of 20 or more people, or proposing to deviate from the occupancy, parking or other site standards in the Summit County STR Regulations. Learn more about STR CUPs.
Short-Term Vacation Rental Responsible Agent Change Request: Applicable to applicants who have already submitted an application and need to change the designated Responsible Agent.