Will Home Prices Decline in 2022?
Posted by Allison Simson on Tuesday, March 15, 2022 at 2:05 PM
By Allison Simson / March 15, 2022
Comment
Will Home Prices Decline in 2022?
Key Takeaways
Industry experts anticipate that home values will continue to appreciate throughout the year, though at a much more modest pace than last year.
The imbalance between housing supply and demand will continue to put upward pressure on home prices.
Your favorite realtors at Summit Real Estate are here to help you navigate home values.
After last year's unprecedented activity in the housing market, both buyers and sellers may be wondering what they can expect to encounter throughout 2022. According to experts, while not as volatile as last year, the housing market will remain profitable as it begins to settle down. So whether you're thinking about buying or selling your home in today's market, here are some essential elements to consider.
Home Values Will Continue to Rise
Before we get started, let's take a quick look at the latest 2022 expert forecasts on home price appreciation: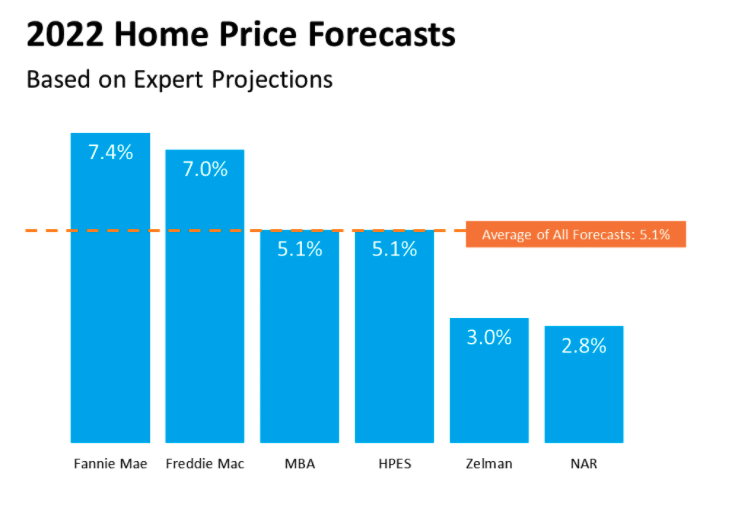 As you can see, none of the industry leaders are anticipating a decline in home values! On the contrary, with an average of 5% growth expected, this is excellent news for buyers and sellers.

If you're a buyer wondering when the best time to buy will be, or if you're a seller contemplating cashing in on your home's value, it's clear that 2022 will still be a good year for both. However, as the new year begins to experience a cool-down from the previous year's record-breaking eight to almost 20% growth in value, it promises a more realistic, sustainable, and modest return.

This means that real estate is still a good, stable long-term investment regardless of whether you consider selling or buying.

The Law of Supply and Demand Remains True
It's no secret that two significant factors influence and drive the market right now: the first is the Millennial generation entering the housing market, while the second is the historical lack of housing inventory available to them as they do so.

With buyers demanding more housing and sellers forced into supplying that demand thanks to the low levels of new home construction, we can see the law of supply and demand at play throughout the market. When there are fewer items on the market than there are buyers, the competition for that item makes prices naturally rise.

While this may appear to benefit sellers over buyers, it doesn't. Certainly, it's a seller's market, and they stand to make a substantial profit should they decide to sell this year.

However, the key takeaway for Millennials and anyone else considering buying a home this next year is that today's market values are sound, based on supply and demand, unlike what occurred in the housing market during the 2008 crash.

We'll Navigate the Market Together
Low housing supply means high competition. You need a seasoned team in your corner to help you weather any seasonal storms.