Summit County: Where Can I Get a Beer? 7 Breweries 7 Days
Posted by Allison Simson on Tuesday, February 8, 2022 at 3:42 PM
By Allison Simson / February 8, 2022
Comment
Where can you get a beer in Summit County, CO?
Well, it turns out, lots of places! There are 7 local breweries in Summit County! Whoa!
Your guide to exploring 7 breweries in 7 days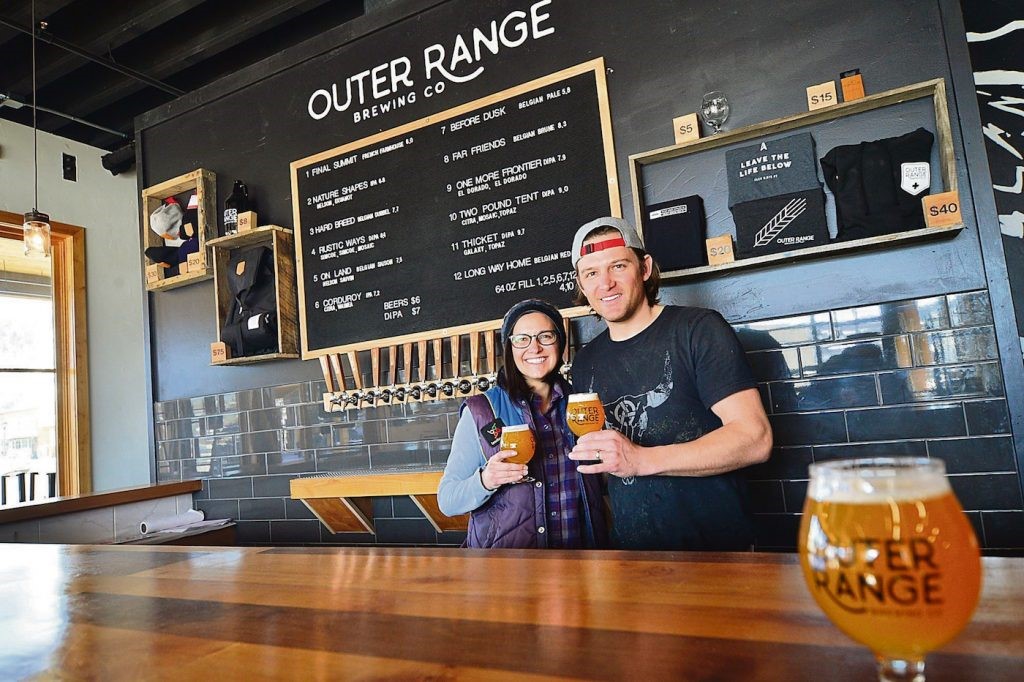 Co-owners of Outer Range Brewery in Frisco, husband and wife Lee and Emily Cleghorn
With seven independently owned breweries in Summit County, there's a friendly, neighborhood option no matter where a resident lives or a tourist is vacationing. It's also possible to be a regular at multiple establishments if one wishes to stretch their wings daily in this mini beer haven.
Starting from the north and going south, here is an itinerary for anyone wanting to check out Summit's brewing scene. All of the beers profiled in these mini-flights should please most palates, but they're scaled in difficulty like ski trails as they go up in alcohol by volume, become darker in color, or get more adventurous in flavor. Note: Tap lists are fickle so not every beer here is guaranteed to be available.
Day One Angry James Brewing Company- 421 Adams Ave Silverthorne
Angry James has had a strong local contingent since day one. Their mug club sold out within hours and they swept categories in the annual Best of Summit competition. The establishment fits perfectly into the mountain community with a bar made of beetle-kill pine, a wood-paneled ceiling and a fantastic patio that has its own fire pit.
Beginner: Jake's Pils, 5.1 percent ABV. Owner A.J. Brinkerhoff describes himself as a purist and that's clear in this crisp and clean German pilsner.
Moderate: Norwegian Farmhouse, 7.6 percent ABV. Flavors of orange peel and clove make this strong beer made with Norwegian yeast deceptively smooth. It's great for after a hike or spring skiing.
Expert: Two Tone Footer Stout, 6.4 percent ABV. A rich mocha for your mouth that's brewed with chocolate malt and Jazzy Java coffee beans from Silverthorne's Red Buffalo Cafe. One may also occasionally find it aged in whiskey barrels.
■ Look For: The latest offerings from Cultivate Kitchen, a quasi-food truck located inside the brewery that serves hearty and healthy eats like tofu banh-mi sliders and cubano paninis.
+ Booze Hounds: Because of Cultivate Kitchen and food laws, four-legged friends are only allowed on the patio.
Day Two The Bakers' Brewery- 531 Silverthorne Lane, Silverthorne
Housed inside a remodeled Village Inn, The Bakers' Brewery opened in 2015. They're the only brewery on this list to offer beers from other Colorado creators even though they have plenty of their own. Another aspect that makes them stand out, as the name implies, are the wealth of baked goods available for munching. From the various sandwich breads to pretzels to pies, you'll find plenty of good pairings.
Beginner: Cottonmouth Killer, 4.9 percent ABV. This session India pale ale is pleasant and citrusy without the hoppy bite.
Moderate: Barking Dog Brown, 4.8 percent ABV. Made with caramel and chocolate malts, this English mild is named for a nearby road in Silverthorne. Brewmaster Cory Forster says it's reminiscent of malted milk balls.
Expert: Elated IPA, 7.5 percent ABV. If you are looking for a more Western-style IPA, this is for you. It combines the trendier tropical flavors with the grassy, dankness of more traditional IPAs.
■ Look For: Rotating seasonal saisons. In the spring you may encounter a glass of pepper and lemon notes, while in the summer one would taste more mango and ginger. Then in the winter it becomes dark and complex with a higher ABV.
+ Booze Hounds: Dogs are not allowed in the building since food is served but they are allowed on the patio.
Day Three Dillon Dam Brewery 100 Little Dam St., Dillon
Born in 1997 and claiming to be the largest brewpub in the Colorado Rockies, the Dillon Dam Brewery is a staple of Summit County that's popular with locals and visitors alike. The delicious and expansive food menu changes seasonally and has something for every palate. Equally large is the U-shaped bar in the middle with views toward multiple televisions.
Beginner: Exit 205, 4.8 percent ABV. Referring to the highway exit to get to the brewery, this balanced IPA tastes just like its big brother, Here's Your Dam IPA. However, the refreshingly low-alcohol beer is better suited to cure thirsty individuals.
Moderate: Sweet George's Brown, 5.4 ABV. This biscuity and sweet English-style ale is brewed with brown and caramel malt and pairs well with practically everything on the menu.
Expert: High Speed Quad, 9.6 percent ABV. A dark and rich Belgian quadrupel with flavors of plum and fig.
■ Look For: If the regular tap list doesn't whet your appetite, then check out the brewmaster's special stash that features twists on their beers like barrel aging or being smoothly served with nitrogen instead of carbon dioxide.
+ Booze Hounds: Though dogs aren't allowed on the premises, including the patio, service animals are welcomed.
Day Four Pug Ryan's Brewery 104 Village Place, Dillon
This neighborhood steakhouse turned brewpub in 1997 and in 2003 became the second craft brewery in Colorado to can their beer. The distribution makes it more widely available than some other breweries in the county. However, enjoying a draft straight from the tap in the rustic restaurant is hard to beat. Don't go looking for a Mr. Ryan behind the bar or brewing beer, though. This establishment is named after Summit County's most famous outlaw, who held up a game room at Breckenridge's Denver Hotel and eluded officers for four years.
Beginner: PugWiezer, 4.4 percent ABV. An American lager brewed with rice.
Moderate: Deadwood Dunkel, 6 percent ABV. A traditional Munich brown lager that's smooth and malty.
Expert: Hey Pocky Way IPA, 11.1 percent ABV. It's never fun to simply phone in hip styles, so Pug Ryan's took the emerging brut IPA — a crisp and bubbly beer akin to champagne — and doubled the grain bill to increase the ABV.
■ Look For: Various seasonal selections, like their never-been-brewed-before red sour beer brewed with cherries.
+ Booze Hounds: Like the Dillon Dam Brewery, no dogs are allowed inside or on the patio, which is accessible from the restaurant.
Day Five Outer Range Brewing Company 182 Lusher Court, Frisco
Arguably the hottest brewery in Summit County, 2-year-old Outer Range draws crowds from across the state and beyond thanks to industry publications naming their flagship In The Steep IPA one of the best beers of 2018 along with being ranked the second-best new brewery by USA Today. They brew only Belgian beers and IPAs yet deliver a wide range flavors. Though there is no kitchen on-site, food trucks occasionally appear or meals can be conveniently brought in from the nearby Whole Foods and Rio Grande Mexican Restaurant. For half the year during the colder months the patio area with yard games gets replaced by a cozy yurt with a fireplace, couch and pillows.
Beginner: Madeleine, 3.9 percent ABV. Named after the daughter of co-owners Lee and Emily Cleghorn, this grisette has a subtle and delicate white wine profile. The easy-drinking farmhouse beer is brewed with wheat and is perfect for quenching thirsts.
Moderate: Blocks of Light, 6.2 percent ABV. This slightly hazy New England IPA may not be as cloudy as similar beers, however, all of the fruit-forward flavors from the Galaxy and Mosaic hops are present and delicious.
Expert: Infinite Chasm, 11 percent ABV. Syrupy sweet, this Belgian quadrupel has warming coffee and cherry notes that are perfect after a cold day of play.
■ Look For: Can release parties that have lines stretching around the block. You may want to post up early with a chair to snag the more coveted creations.
+ Booze Hounds: Leashed dogs are welcomed inside and out, but not in the yurt.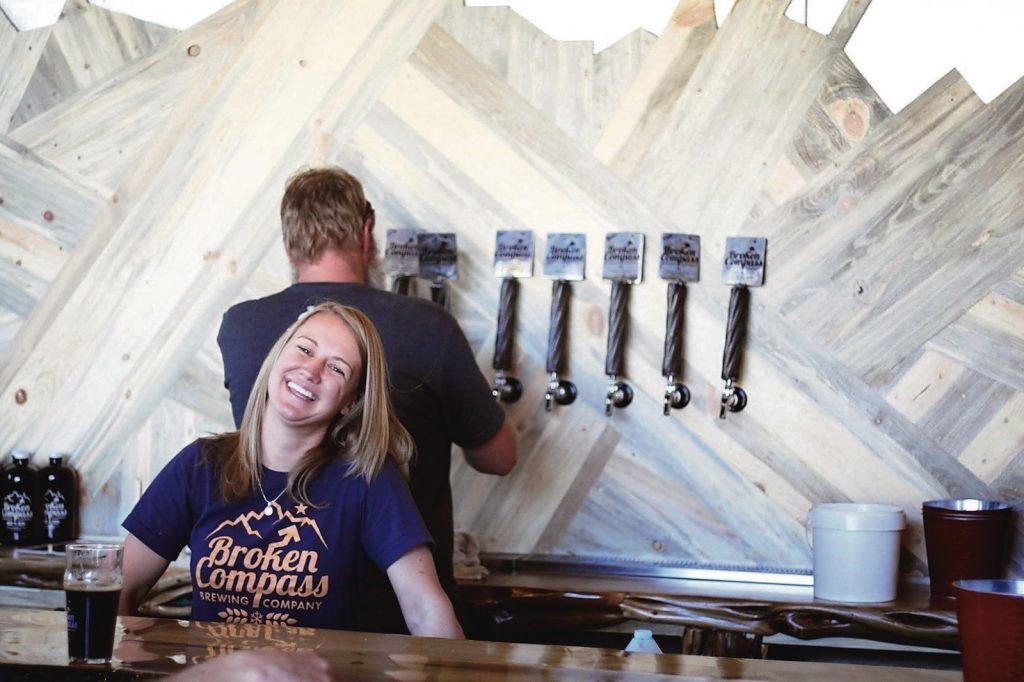 Day Six HighSide Brewing, 720 Main St., Frisco
The youngest brewery in Summit County, HighSide formed from an experienced group of Colorado brewers and replaced Backcountry Brewing. It is a welcoming neighborhood bar that has a fireplace and leather furniture, a multitude of games like pinball and giant jenga, local art adorning the walls and windows looking out on the marina. Along with their small menu featuring flatbreads and pub snacks, they also serve gluten free beer in cans from Holidaily Brewing and have various nonalcoholic choices.
Beginner: Cucumber Smash IPA, 4.6 percent ABV. The notes of cucumber make the beer extremely refreshing while the low alcohol content makes it sessionable and quaffable.
Moderate: Vienna Lager, 6 percent ABV. Well balanced and malty, this is an approachable amber-colored beer.
Expert: Baltic Porter, 7.9 percent ABV. A dangerously smooth beer that has a deep coffee flavor without the aftertaste of bitter grounds.
■ Look For: Infusions such as a ghost pepper pilsner and chai porter or new sours and barrel-aged beer along with their soon-to-be-completed expansion into Backcountry Brewing's old 5,500-square-foot dining area upstairs that features cocktails.
+ Booze Hounds: HighSide welcomes leashed dogs both on the patio and in the taproom, but they can't go to the second floor due to state food laws.
Your friendly neighborhood beer-tender, Maggie Abernathy, holds down the bar at Broken Compass Brewing in Breckenridge.

Day Seven Broken Compass Brewing 68 Continental Court, Unit B12 Breckenridge
Since 2014 Broken Compass has been delivering the goods off of Airport Road. Though in an industrial setting, the brewery feels warm as a diverse and ever-changing selection of beer pours from the taps. Each is waiting to be savored with the view of Breckenridge Ski Resort. They taste even better when paired with a hunk of meat sliced off of a roasted pig during their parties.
Beginner: Ginger pale ale, 5.9 percent ABV. The easy-drinking beer with just a hint of zingy ginger. It won silver at the Great American Beer Festival.
Moderate: Coconut Porter, 5.9 percent ABV. Another award-winning favorite that's packed with coconut flavor.
Expert: Imperial Fabulously Delicious Finely Hopped Brown, 12.5 percent ABV. Aged in Breckenridge Distillery bourbon barrels, this brown is, well, delicious.
■ Look For: A new beer is tapped every Wednesday so there's always something to look forward to. Springtime is usually home to their hefeweizen and the sweet and spicy raspberry habanero pale ale.
+ Booze Hounds: Like Outer Range, there is no kitchen on the premise so dogs are allowed.
Article Courtesy of Jefferson Geiger- Summit Daily News
Explore Summit Real Estate's Brewery Favorites in our Videos Below: