Spring 2023 Market Insights From Allison Simson
Posted by Allison Simson on Sunday, March 19, 2023 at 4:33:10 PM
By Allison Simson / March 19, 2023
Comment
Friends, it's weird out there...

The economy, that is. Interest rates have jumped, then fallen, then risen again and the see-saw continues. Home sales have slumped, but inventory remains sparse. Inflation was under control, until it wasn't again, though maybe it is again? And oh, there was a bank run. Like I said, weird.

The truth is that every expert's best guess about where the economy is heading changes weekly — a reminder of just how hard it is to predict the future, and how important to remain present (a lot like life!) Never has it been more important to be working with a knowledgeable local Summit County Realtor, who understands the intricacies of our ever- changing market.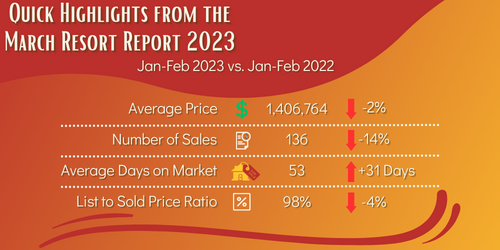 Maybe you're feeling overwhelmed about the status of short term rentals or the growth that is happening, but one thing we know for sure is that some things don't change - the beauty of a crisp, frosty morning on top of the mountain, fresh tracks on a powder day and the excitement of spotting a moose on a hike through the woods.

We hope the information here will give you some clarity and peace of mind. Please let us know what else you need to know!


And here's a great read that sheds some light on the Summit County Real Estate Industry, by Glen Weinberg: Colorado ski real estate doubles, will there be a drop on the other side? 5 factors that will shape the future

Cheers!