2022 New Year, New Market
Posted by Allison Simson on Tuesday, January 11, 2022 at 1:45 PM
By Allison Simson / January 11, 2022
Comment
Hope your new year is off to a smashing start! The snow finally hit Summit County and the skiing & snowshoeing is great!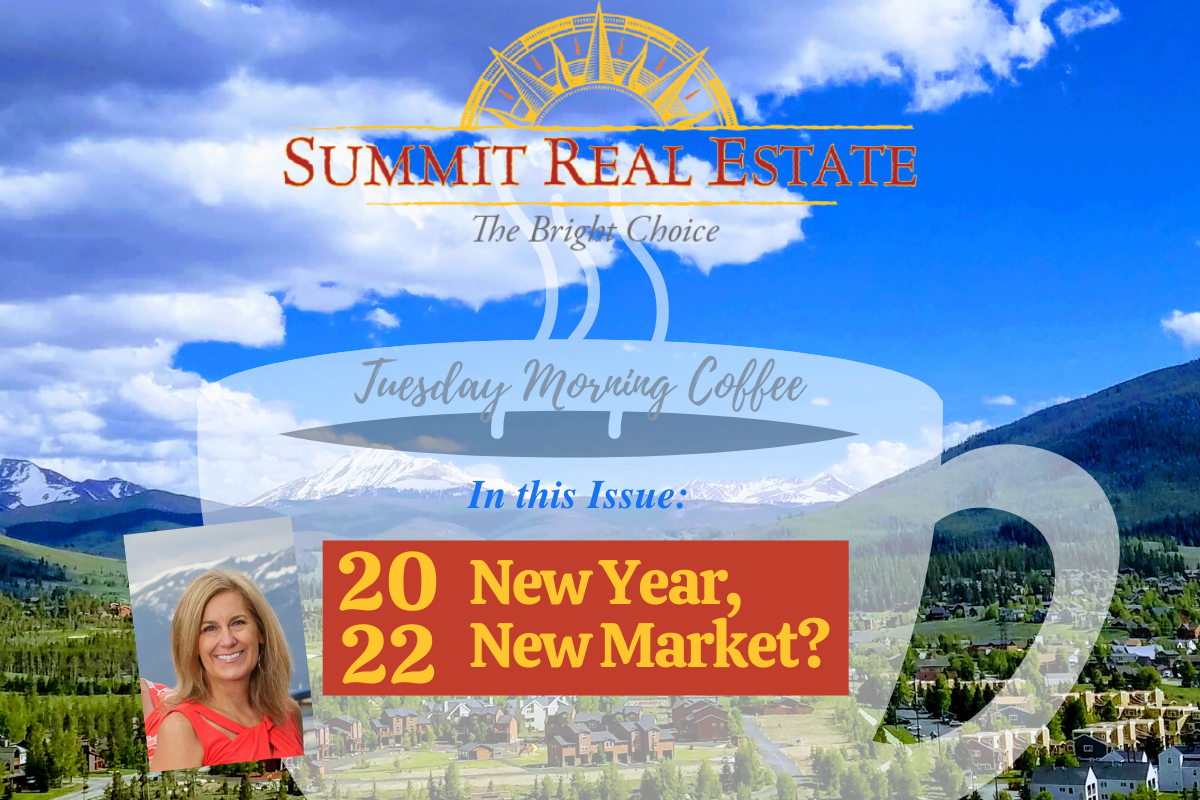 Is there a shift in the market in the air?
Possibly. My prediction (
as well as that of national economists
) is that our market will continue to appreciate, but at a decelerated rate. The overall appreciation of the market in Summit County in 2020 was 24%! That's 2% per month! Whoa!
Interesting shift for me & Summit Real Estate
….I have received more requests for information about
Summit Home Values
so far this year than I did the first 6 months of 2021! Again. Whoa! Does that mean more people are thinking about selling this year, or does it mean I'm just doing a better job of marketing?? I think both! ?
The housing market is doing very well
throughout the country, and it may normalize in 2022 a bit. Check out his article regarding the National Association of Realtors Chief Economist, Lawrence Yun:
NAR's Yun Says Housing Market Doing Well, May Normalize in 2022
The outlook for the residential real estate market, which performed exceptionally well during the height of the pandemic, continues to be promising, according to NAR Chief Economist Lawrence Yun.

"All markets are seeing strong conditions and home sales are the best they have been in 15 years, Yun said. "The housing sector's success will continue, but I don't expect next year's performance to exceed this year's."

An unknown, he said, is how remote work opportunities will play out in the future and advised that the industry keep that in mind.

"We are only in the first innings of work-from-home options," Yun said. "People have not fully digested the work-from-home-flexibility model yet in determining home size and locational choice."

Yun said even though there may be a decline in sales in 2022, he still forecasts home sales will outdo pre-pandemic levels. His prediction, he noted, is based on an anticipation of more inventory in the coming months. That supply will be generated, in part, from new housing construction – already underway – as well as from the conclusion of the mortgage forbearance program, which in turn will cause a number of homeowners to sell.

"With more housing inventory to hit the market, the intense multiple offers will start to ease," Yun said. "Home prices will continue to rise but at a slower pace."

The job market naturally struggled during the pandemic, however, it has turned a corner and continues to make incremental progress, Yun explained. Since the nation emerged from lockdown, 18 million jobs have been created. The unemployment rate at 4.6% implies the U.S. economy should be back to normal, however, the country is still facing an employment shortage, he clarified. There are 4 million fewer jobs now than the number of jobs prior to the arrival of COVID-19.

Yun noted that some areas in the nation are thriving and are already fully recovered. This is the case for the respective job markets in places like Idaho and Utah. Both states have reported currently having more jobs now than at the beginning of the pandemic.

While real estate has thrived, Yun says there are signs that a more normal and predictable market is on the horizon. Home sales have surged over the past year in an uncharacteristic manner, many receiving multiple bids after only being on the market for a short period. However, the housing sector will settle down but at above pre-pandemic levels.

Yun projected that mortgage rates, which are currently at 3.0%, will see an increase of 3.7% in the coming months, a rise he attributes to persistent high inflation. Home prices rose by 12% on average in 2020 and 2021, while inflation rose 3%.

"Rising rents will continue to place upward pressures on inflation," he said. "Nevertheless, real estate is a great hedge against inflation."

So, the coming months will tell how our real estate market will fare. Let me know if you are interested in the valuation of a specific property.
Or check out www.SummitHomeValue.com