Allison Simson
CRS, CNE, GRI, RSPS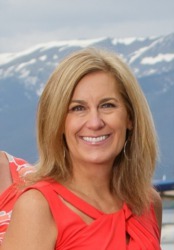 I am not only thankful for an extremely successful business, but feel so fortunate to be supported by Craig, my husband, and Logan & Mackenna, our twin daughters. We love raising our family in the Colorado Mountain sunshine. As business continues to flourish, I thrive on seeking ways to improve the practice of real estate, both as an art and a science. After 25 years in the business of real estate, I have learned a few things that I continue to live by. Under-promise, and over-deliver. Tell people the truth, not what they want to hear. Do what you say you are going to do. Give the benefit of the doubt, but trust your instincts. Be appreciative. Be grateful. That's the part that makes Real Estate fun and exciting. Not nerve-wracking. That's the tough part. The part I pride myself in doing well. I love what I do, and it shows.
Testimonials
This amazing group of women transacted the long-distance sale of two condos for me - from listing to closings in under two weeks! I couldn't believe how smoothly the paperwork was handled. The friendliness, warmth, efficiency, and laughs we shared made me feel like I was with a group of lifelong friends even though I never met them in person. I had been reading the newsletter sent by the Owner for some time and was impressed. That is how I came to choose them to handle these sales. Beyond that, there were personal issues that were thoughtfully handled for me. The entire experience was simply incredible! What a team! Thank you all so very much!
Candi D
We worked with Allison and Trisha. They were both very knowledgeable about the market, always available for you, and a joy to work with. We also enjoyed working with the Summit Real Estate Team throughout the process, they are all very friendly and responsive and have great resources available to you.
Stacey T.