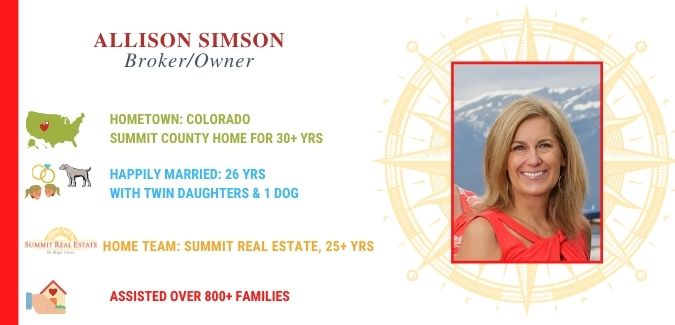 Best of Summit 2021 2nd Place Real Estate Agent!
"I am not only thankful for an extremely successful business, but feel so fortunate to be supported by Craig, my husband, and Logan & Mackenna, our twin daughters. We love raising our family in the Colorado Mountain sunshine. As business continues to flourish, I thrive on seeking ways to improve the practice of real estate, both as an art and a science. After 25 years in the business of real estate, I have learned a few things that I continue to live by. Under-promise, and over-deliver. Tell people the truth, not what they want to hear. Do what you say you are going to do. Give the benefit of the doubt, but trust your instincts. Be appreciative. Be grateful. That's the part that makes Real Estate fun and exciting. Not nerve-wracking. That's the tough part. The part I pride myself in doing well. I love what I do, and it shows."
Allison's Recent Listings
October 2, 2023
Allison's Client Success Stories
This amazing group of women transacted the long-distance sale of two condos for me - from listing to closings in under two weeks! I couldn't believe how smoothly the paperwork was handled. The friendliness, warmth, efficiency, and laughs we shared made me feel like I was with a group of lifelong friends even though I never met them in person. I had been reading the newsletter sent by the Owner for some time and was impressed. That is how I came to choose them to handle these sales. Beyond that, there were personal issues that were thoughtfully handled for me. The entire experience was simply incredible! What a team! Thank you all so very much!
Candi V
We worked with Allison and Trisha. They were both very knowledgeable about the market, always available for you, and a joy to work with. We also enjoyed working with the Summit Real Estate Team throughout the process, they are all very friendly and responsive and have great resources available to you.
Stacey T.
A great team! We had a great experience both times!
L. Rogers
Working with Summit Real Estate was a flawless and enjoyable experience. Great communication and coordination along with a friendly and professional approach was very much appreciated. Summit took the time to speak with us, understand our needs, and made the entire process as easy and flowing as possible. Highly recommended.
W. Hard
Allison did an incredible job selling my condo.
G. Baker
The real estate agents are friendly and knowledgeable about the area and a joy to work with.
D. Crawford
We recently listed and sold our house in Whispering Pines with Summit Real Estate. Allison and her team did an excellent job guiding us through the process. They were attentive to our questions and very responsive with answers. We highly recommend Summit Real Estate. Kurt and Carole
K. Peoples
Summit County: a great place to live, work and PLAY! Allison and her team know all about the lifestyle here! Even better, they know the real estate market like the back of their hands. If you are even dreaming about living here, this is the real estate team that will be able to answer questions you didn't even realize you have! And when it's time to sell, they are the absolute best choice as well. Summit Real Estate - the only choice!
D. Yost
Alison and her team at Summit Real Estate is beyond amazing. Professional and so easy to work with. They are organized and make buying and selling seamless. I recommend them highly and would give them 10 stars if I could.
P. Clark
Allison and Summit Real Estate are the most professional Team of Realtors I have had the pleasure of dealing with. Their efficient and friendly style made me comfortable working with them.
O. Steinberg
Ally is a wonderful agent and true professional. She knows the market well and can offer excellent advise as a very experienced Broker. Ally is the Best!!
G. McKinley
Wonderful staff! Knowledgeable, kind and fun.
N. Murray
Allison worked with Kathy and me through the process of preparing our Eagles Nest home for sale. She was invaluable in helping us stage the home for photos and showings and in quickly getting our property listed on the various services and the MLS. Our property was under contract 18 days (!) after it went up. Allison continued to work with us through the various phases leading up to a smooth closing. We both highly recommend her and her excellent team.
D. Bryant