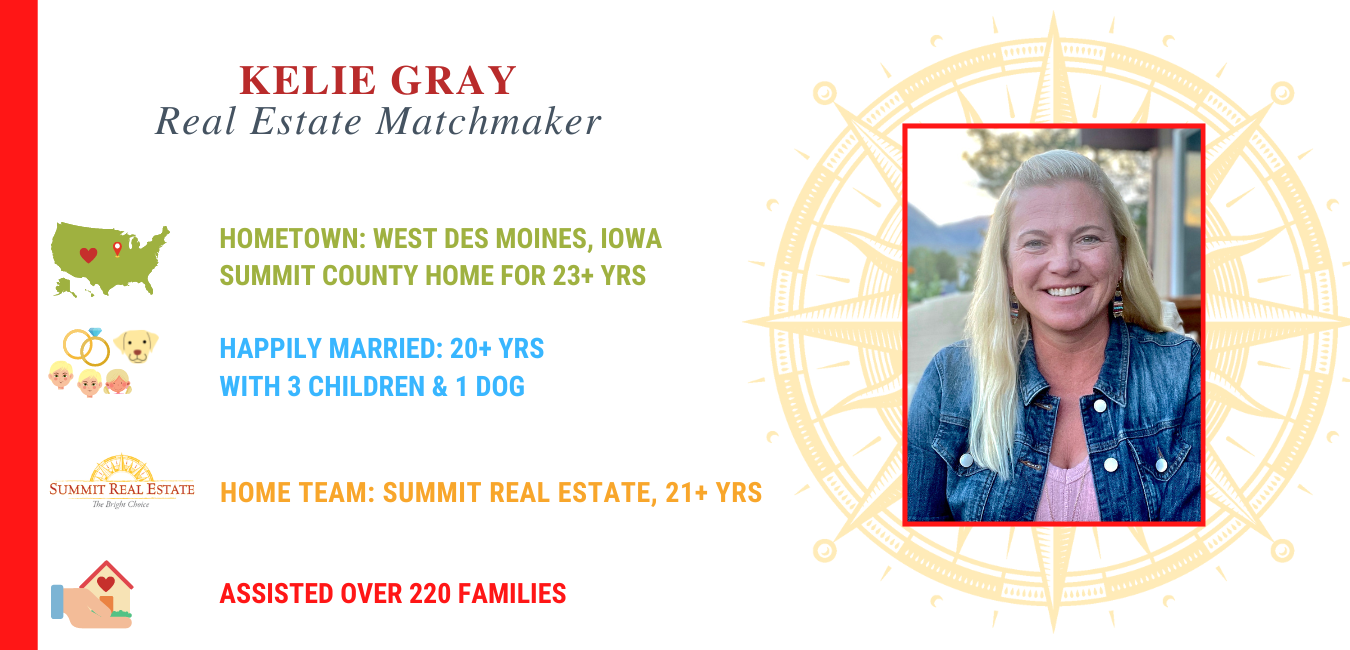 "It is my goal to help you focus on your mountain real estate needs so that you can move on to new adventures. I truly listen and work diligently on your behalf, while keeping your goals in mind. My love of the mountains, extensive knowledge of the local real estate market, and long career of helping buyers and sellers in Summit since 2002 will help get you where you want to be. Real Estate is my Specialty and helping others is my Passion! Moving to Dillon, CO from Iowa in 1999 was the best decision I ever made. The Midwest is a wonderful place to be from, and I look forward to continuing to raise my family in the mountains! I would be honored to help you find the mountain property of your dreams, and listening to your needs and goals is always a good place to start. Whether you're looking for a vacation home or looking to make Summit County your permanent home I hope that I can share my love for the mountains!
Putting the Special In Specialist:

Kelie's Featured Listings
September 26, 2023
Kelie's Client Success Stories
I live out of the state of Colorado. I called Kelie's real estate office and received a quick response from her. She was very experienced and full of information I needed to complete my purchase, without being there. I have not met her yet, but it was like I had known her personally. She takes the extra mile to help her client find their property. I highly recommend Kelie.
Donna F.
I loved working with Kelie Gray. Kelie really knows Summit County. She was able to quickly tell me if a property I was looking at met my criteria. She saved me a lot of time, helping me eliminate properties that weren't really what I was looking for without me seeing them. I live in Denver and was searching for a property from a distance. Kelie was always happy to go preview a property and FaceTime with me or send me videos. This also saved me a lot of time. I was looking in a very competitive market. Buyers had to be quick and aggressive to win properties. As soon as I told Kelie I liked a property, she showed it to me via FaceTime the same day. I was often the first person to see a property. Kelie is also a direct communicator. She saved me from myself and my own impulsiveness many times. She said no to properties that I might have pursued that really didn't meet my needs. She was looking out for me. Kelie also always made time for me. She often emailed and texted me late at night when necessary and I never felt like I was burdening her with a late-night message or multiple messages. Kelie has even been a helpful resource after I closed on my property, helping me get rid of furniture that was in our condo that I decided I didn't want and making recommendations when I needed vendors. She's a consummate professional and a lovely person. I liked working with her personally and professionally and highly recommend her.
Shari H.
We found our dream home with the help of Kelie Gray at Summit Real Estate. Excellent listening skills, encouraged and answered questions, and most of all was patient as we spent the summer finding just the right home for us!
Angela B.
We worked with Kelie as well as a few of her team members at Summit Real Estate to find the perfect home for our large family. Because of Kelie's experience and the fact that she has lived in Summit County for 20+ years, we were able to quickly narrow our search to specific areas within Frisco. This was especially important and critical for us, given we were purchasing a home several states away, and knew very little about the area. Her insights and knowledge were invaluable in helping us remain focused on our original criteria and not make a "panic" buy. The wait was so worth it--we love our home and have zero regrets. The entire experience was seamless and everyone we interacted with at Summit Real Estate was immensely helpful and responsive. We highly recommend Kelie and Summit Real Estate--you will not be disappointed
P. Witt
We found our dream home with the help of Kelie Gray at Summit Real Estate. Excellent listening skills, encouraged and answered questions, and most of all was patient as we spent the summer finding just the right home for us!
A. Brand
We worked with Kelie on simultaneous sale and purchase with a lot of negotiation on the terms, timing etc. She did a great job on all aspects of both deals and we were very pleased with the outcomes. As such I highly recommend Kelie as an excellent, level headed agent that delivers!
B. Baker
Kelie has been our Summit County realtor through 2 home purchases and one sale. She's worked hard to understand our needs and to make each transaction flow seamlessly. She is kind with a gentle toughness. Just the right mix for us! The entire Summit Real Estate team goes out of their way to be the best ---from offering the use of their moving van to awesome customer appreciation events and generously giving back to the community. We appreciate you! Mike and Carolyn Bonavida
C. Bonavida
We bought a second home from Kelie a couple of years ago and I have to say, it was the easiest and most seamless real estate transaction we have experienced. Kelie is both personable and knowledgeable, a pleasure to work with. She is also readily available with any questions you may have. Thanks again, Kelie!
L. Baker
My wife and I bought a property with Kelie Gray and Summit Real Estate. Kelie is knowledgeable and responsive, if you ask a question, she gets the answer. If she says she will do it, it gets done! Great experience and Summit Real Estate provides great community communication ongoing after the sale.
R. Hoffarth
Kelie Gray and the whole team at Summit Real Estate are amazing! Very knowledgeable, professional, and efficient! Wouldn't dream of using another realtor!
M. Rod
Both my son and I purchased property with Kelie as our agent. She is the best - careful to understand our needs and working hard to find the best fit. She has my strongest recommendation!
A. Roth
Kelie Gray listened to our needs and helped us by working hard start to finish through the entire process.
C. Myers
My husband and I were recommended to Kelie Gray at Summit Real Estate - and now I know why! In our first meeting she quickly narrowed down our our needs and desires for location and housing options. From that day on she kept us informed of the market and updates to our inquiries regarding houses we were interested in. Once we found the property we decided to purchase, she was there for us - diligently guiding us through the buying & closing process. We were out of town buyers & Kelie went above and beyond the normal assistance of her realtor duties by meeting service people, keeping everything on schedule and keeping us in the loop as the whole closing/sale process unfolded. We really appreciated her efficiency & ability as a realtor - but most importantly we felt we made a friend in the process. Many thanks Kelie! Definitely a FIVE star Realtor !
P. Berry
Quite simply put, Kelie is THE best. She knows her stuff and possesses a plethora of pertinent, far ranging information. Though every agent has access to all mls listings, it's what they do or do not do that is important. Kelie KNOWS what to do!
G. Moore