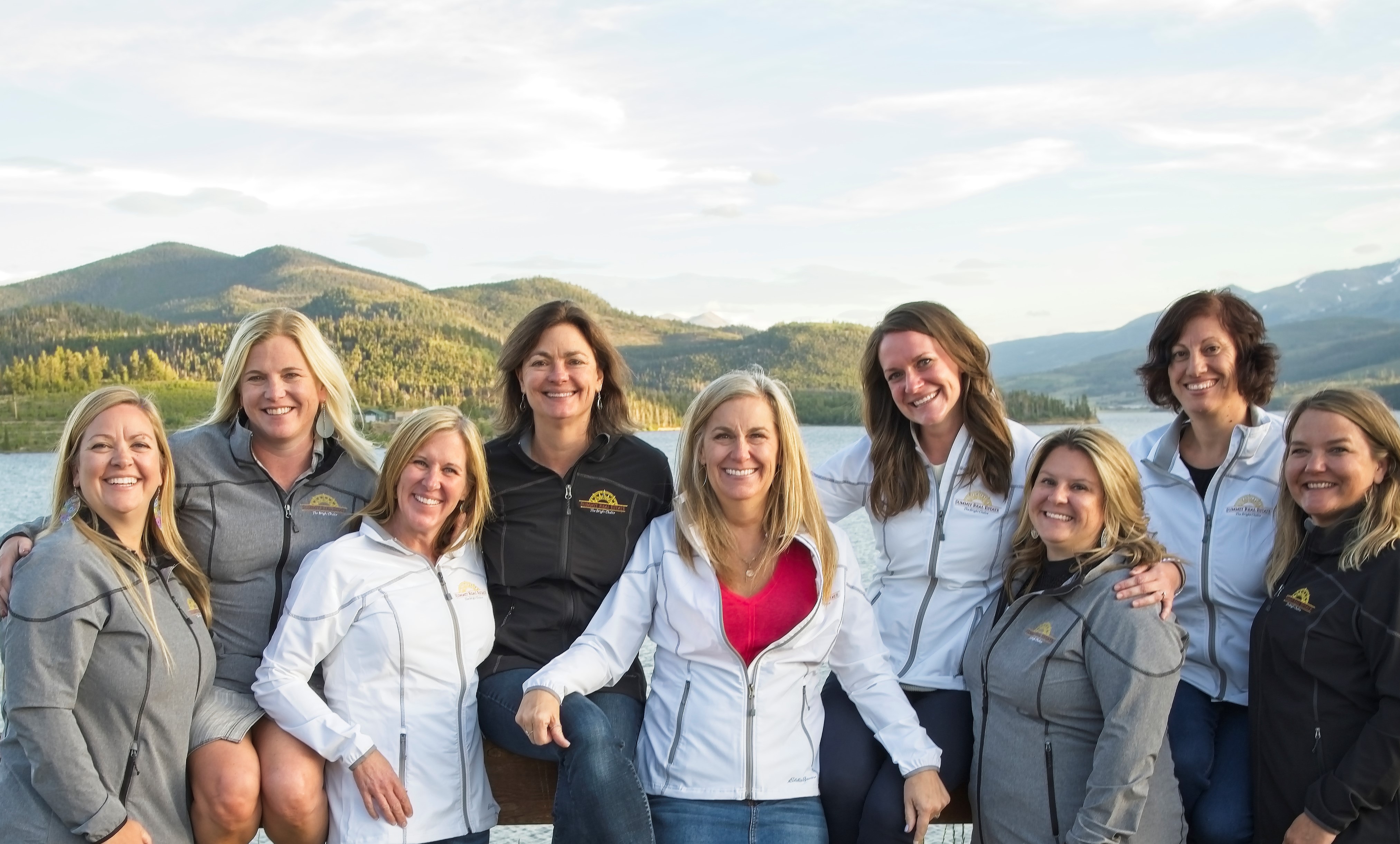 Welcome to the Summit Real Estate Dillon, CO Team!
We are a women-led Summit County, Co Brokerage. Our vision of success and legacy is measured by our Core Values, living the Platinum Rule, inspiring others with our reputation, and changing the real estate industry for the better. Summit Real Estate is a top-performing Real Estate Agency in Summit County, CO.

Summit Real Estate was founded in 2002 by Joyce Nenninger. Allison Simson and Joyce Nenninger were great friends, Joyce was Allison's mentor since Allison obtained her real estate license in 1993. Allison and Joyce worked at Coldwell Banker in Dillon, CO and then at Summit Real Estate Professionals, also in Dillon, CO. When Joyce decided to retire from the real estate industry in 2005, Allison took over as Team Leader of the company.
The goal for Summit Real Estate has always been to be a top-notch real estate company that is known for its exceptional customer service and team approach. At Summit Real Estate we value family and friendship as well as enjoying all that Summit County has to offer.
Be sure to meet our team: Owner Broker: Allison Simson | Real Estate Specialists: Kelie Gray, Trisha Moore, Isabel Rawson, and Deena Heppner

Summit Real Estate Core Values:
Passionate commitment to delivering excellence in real estate.
Authentic relationships built on mutual respect and kindness.
Strong personal, professional and business growth.
Service with an "It's my pleasure!" attitude.
Integrity. We will always do what is right, even if it is hard, because it is the right thing to do.
Optimism, humor & fun! We are confident about the future, expecting the best & remaining positive.
Negotiation skills, market knowledge & trusted advisors.
We LOVE what we do! "Choose a job you love, and you will never have to work a day in your life." ~ Confucius
Mission Statement: "Whether you are buying or selling Summit County real estate, we understand that the most important real estate transaction is yours!"
The Platinum Rule: "Treat People how THEY want to be treated."
---
Partner with the Summit Real Estate team for your next real estate adventure!


Success Stories: Words from Our Clients
This amazing group of women transacted the long-distance sale of two condos for me - from listing to closings in under two weeks! I couldn't believe how smoothly the paperwork was handled. The friendliness, warmth, efficiency, and laughs we shared made me feel like I was with a group of lifelong friends even though I never met them in person. I had been reading the newsletter sent by the Owner for some time and was impressed. That is how I came to choose them to handle these sales. Beyond that, there were personal issues that were thoughtfully handled for me. The entire experience was simply incredible! What a team! Thank you all so very much!
Candi V
We worked with Deena at Summit Real Estate and could not be happier with our experience. The market was absolutely crazy, and Deena was always quick to respond to any question or request. We never missed out on touring properties that we were interested in. We started our search from Wisconsin, and Deena took us on virtual tours so we could get a better handle on what we liked/didn't like before we came out to view properties in person. We ended up purchasing a property after returning to Wisconsin and were comfortable with Deena's virtual tours and her perspective. It took us multiple offers to land a place, but we ended up getting the type of place we wanted and within our budget. Very thankful for all of Deena's work to put us in the best position in each offer. (We had strong offers, but sometimes we were jumped by cash buyers, and so we couldn't have asked for anything more from Summit Real Estate.) While under contract we had constant updates to keep us on track with Margaret, and things could not have gone smoother. If you are looking to purchase a property in Summit County, I cannot recommend Deena and Summit Real Estate highly enough.
Justin R.
Deena is the consummate professional and exceeded expectations in securing my new home. As a first-time homebuyer, I had basically zero knowledge and understanding of the real estate market and what it takes to purchase a home. Deena made sure that I was completely informed through the entire process and even to provide additional knowledge and guidance after I closed on my home. She was very timely in her responses and even went as far as to respond to my questions and concerns on the weekends and when she was on vacation. There was not a single moment when I felt like Deena didn't have my best interest at heart. She handled everything in a quick and easy manner and made sure I had as little of a burden as possible in the entire process. She was very upfront with how she viewed the market and what it would take to secure the home we were interested in. I would highly recommend her to anyone looking to purchase a home and would feel completely confident she would exceed expectations as a real estate agent for them like she did for me.
Nathan S.
I live out of the state of Colorado. I called Kelie's real estate office and received a quick response from her. She was very experienced and full of information I needed to complete my purchase, without being there. I have not met her yet, but it was like I had known her personally. She takes the extra mile to help her client find their property. I highly recommend Kelie.
Donna F.
We worked with Deena & Summit on the purchase of our Summit property and can't recommend it enough. She was great to work with, especially with the challenges of being remote and helped ease our concerns around some of the properties through the process. We couldn't be happier with the end result and would recommend anyone who is looking for their mountain property, to give Deena a ring.
Leif P.
We had a great experience with Summit Real Estate! Deena was knowledgeable, responsive, and made the home buying experience so easy.
Alison O.
Isabel helped my real estate partnership find a condo in the crazy Summit County market. She was extremely responsive and had a great, positive attitude even though we had her running around all over the place. After 3 or 4 offers we finally found just the right place. I highly recommend Isabel Rawson at Summit Real Estate to help you buy or sell property in Summit County.
Todd P.
I loved working with Kelie Gray. Kelie really knows Summit County. She was able to quickly tell me if a property I was looking at met my criteria. She saved me a lot of time, helping me eliminate properties that weren't really what I was looking for without me seeing them. I live in Denver and was searching for a property from a distance. Kelie was always happy to go preview a property and FaceTime with me or send me videos. This also saved me a lot of time. I was looking in a very competitive market. Buyers had to be quick and aggressive to win properties. As soon as I told Kelie I liked a property, she showed it to me via FaceTime the same day. I was often the first person to see a property. Kelie is also a direct communicator. She saved me from myself and my own impulsiveness many times. She said no to properties that I might have pursued that really didn't meet my needs. She was looking out for me. Kelie also always made time for me. She often emailed and texted me late at night when necessary and I never felt like I was burdening her with a late-night message or multiple messages. Kelie has even been a helpful resource after I closed on my property, helping me get rid of furniture that was in our condo that I decided I didn't want and making recommendations when I needed vendors. She's a consummate professional and a lovely person. I liked working with her personally and professionally and highly recommend her.
Shari H.
We found our dream home with the help of Kelie Gray at Summit Real Estate. Excellent listening skills, encouraged and answered questions, and most of all was patient as we spent the summer finding just the right home for us!
Angela B.
We worked with Allison and Trisha. They were both very knowledgeable about the market, always available for you, and a joy to work with. We also enjoyed working with the Summit Real Estate Team throughout the process, they are all very friendly and responsive and have great resources available to you.
Stacey T.
When we made the decision to purchase in Summit County, we sought out a realtor who was professional and would work to meet all our needs. Deena Heppner met every expectation and was even available to us while on vacation with her family! As we live out of state, she willingly showed us properties virtually and was diligent in getting every question answered. The process went smoothly, and we are now delighted to be homeowners in the beautiful mountain town of Breckenridge. I would recommend Deena to all my friends and family with no reservation.
Dawn M.
We worked with Isabel Rawson to find a mountain property and could not be happier with the expertise and support of the Summit Real Estate Team. Could not be happier.
Alexander T.
My husband and I had a wonderful experience with the purchase of our vacation home. Deena Heppner is very professional and made the purchase process seamless. I would highly recommend Deena and Summit Real Estate to anyone looking to acquire real estate in the area. Thank you again Deena!


Meg B.
Deena Heppner helped us out in a way that really helped put our minds at ease. We moved out of town and she was so attentive in letting us know when things were changing at the house. She had a great team that tried to get back to us with any of our questions. We would recommend Deena!
S. Earl